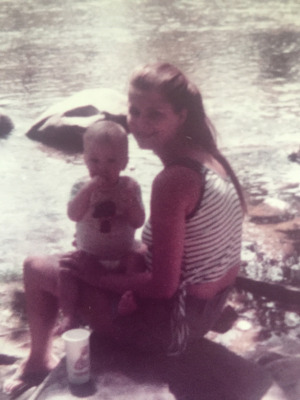 By: Alicia McDaniels
I constantly felt that every time I spoke with my mother she had to hear about how amazing I was doing, but I actually was doing the opposite. It had gotten to the point that I felt like I was becoming a disappointment to her. My boyfriend had passed away, I had stopped auditioning, every consecutive relationship within 3 years of my boyfriend's death was a disaster, and the only thing I really had going for me was my ability to manage living in New York on my own. I knew this wasn't enough for her or for me.
"Why do you even live there if you aren't auditioning?" my mother would say. "You should just have a family."
"With what husband, Mom?!" I would say before crying and attempting to hang up the phone.
It reached the point when I was so depressed that I just couldn't call her anymore. I didn't need her to worry about me, or hear that unfortunately I couldn't snap out of it and that things weren't getting better. It wasn't until later that I realized she was the one that understood the most.
My mother spent most of her life battling depression. Her happier moments were often spent with her family. After her and my father divorced in 1999, she began to feel that all of that was taken from her. After years of struggling, she eventually started work after many years of being a homemaker. She began visiting the people she loved more, focusing on her future independently, and spending her free time doing things that made her feel good about herself. Then, she was diagnosed with cancer. She had Stage 3 breast cancer, but she was able to go into remission after chemotherapy, radiation, and a mastectomy. I didn't understand the depth of her illness when she was diagnosed in my teens, but I just knew that ultimately she would be okay and remain alive. Shortly after she fell into remission, my brother tragically passed away. This took a toll on our entire family. I had left to New York City a few months later, but she was left to deal with the constant realization that he would not be stopping by to see her anymore.
After meeting someone that I really connected with, I learned a year later that he would also be diagnosed with cancer. Three years of treatments later, he would pass away at the same time that my mother's cancer would return.
"Is she going to be okay?" I asked my sister, with the inability to deal with any of this again.
And she was, at least for three more years. Her treatment eventually stopped working and not a lot of options remained for her.
"Mom, I just want you to know that I wasn't dodging you. I have been just as depressed as you are, and sometimes it is hard for me to talk to you." I said to her when she asked me why I didn't call as often.
When my mother's illness took a turn for the worse, she surrendered open handedly- hoping that somewhere she would see my brother again, and happy that both of her daughters had grown into independent women.
I still miss calling her. She had jokes that would go over most people's heads, and I hope that I inherited this quality of sarcasm from her. I loved calling her at 2am after work so that we could throw them back at each other.
"Honey, you should hang out with your girlfriends if you aren't in a place to date right now," she would say.
"Yeah, I don't know."
"Don't some people go both ways? Maybe just spend time alone." And there was her way of attempting to cheer me up, and hinting that it was okay to be alone.
It took awhile for me to learn this, but the people that care deeply about you- just want to hear from you. Life may not be figured out, and you may feel like everything has fallen apart to leave nothing remotely positive in the future. But, they don't care if you are a mess- they just want to hear from you.
My mother said to me often, "One day I won't be here, ya know!"
I always laughed when she said this. This is such a mother thing to say to her children as they are growing older and attempting to figure out life on their own. For me, the day has come when she is no longer here. I have become grateful for the moments I did have with my mother, even if most of them were just sharing in our own misery from time to time.
After her death, I have realized how much loss has become a part of my life. One guy I pseudo-dated liked to often comment that this made me "eery" or "creepy". Maybe the amount of loss I have dealt with is creepy, but it's a part of life- something that the Egyptians accepted at the time of their birth, but Americans shy away from speaking about.
Loss has ultimately shown me how to live. Sometimes I'm impatient with people and encounters, but I think it's the ever-present knowledge that this may be my last. I've learned to love deeper than I ever thought was possible, feel more than I bargained for, and accept that most of life's happenings are out of our control.
If there's one thing that I would hope for, it's not that the constant recurrence of loss in my life has made me become bitter, jaded, and abandoned of all hope. It's that I continue to love deeply, welcome change, and inspire those that feel that there isn't a point in calling or talking anymore, because nothing is going well.
The people that love you want to hear from you, even when it's not going well. Chances are, like my mother, they have been there tenfold. No one wants the perfect, sugar-coated story. The people that love you don't need the façade. Unfortunately, these are the very people that we push away the most, and then one day it will be too late.
A funny thing about life is that it keeps going; even after that break-up, that job loss, and even after your parent's death. My mother, however, would never tell me to move on. She would ask me questions about everything, possibly scold me a little, tell me I need to brush my hair, and then ask me what's next and how do I get there? She'd then follow up by mailing me a handmade candle to welcome the change.
I think it's important that we embrace the bad rather than focus on the good at all times. The beautiful thing about life is that even in the throes of loss, the wings of the darkest energy, and the pits of disaster- we are experiencing something that is greater than us all, a gift that was handed to us straight from our mother's womb. This is the gift that links us all together. It might stop us from answering that phone call, but ultimately it will help us to reach for the receiver again.